Without a doubt, pre-filled carts are some of the most popular vaping products on the market today. There are plenty of good reasons for that. Vape carts are very potent, so they're quite affordable for the amount of material they contain. They're also convenient – just attach a vape cart to a 510-thread battery, and you're ready to go. Another benefit of vape carts is that they're much more discreet than dry herbs.
Vape carts, however, do have one serious downside: fake carts are incredibly common, and they can be very dangerous to use.
Counterfeit products are a serious problem in almost every industry. Outside the vaping industry, though, knockoffs usually aren't dangerous – they just break quickly or don't work quite as they should. Vape carts are an entirely different story. A fake cart could put you in the hospital, or worse.
In this article, we're going to help you avoid all types of fake carts, including:
Fake cannabis carts
Fake dab carts
Fake THC carts
Fake Delta-8 carts
Fake CBD carts
Before we get into detail about how to identify fake carts, though, let's discuss the issue at a slightly higher level. Why should you be concerned about fake vape carts?
Why Are Fake Carts Dangerous?
If you're going to use any vaping product, you need to know exactly what you're inhaling. The reason why fake vape carts are such a major safety issue is because you don't know what's in them. Buying a vape cart isn't like buying dry herbs. You can physically examine cannabis flowers, but a vape cart is just a container of liquid. The liquid could be almost anything at all.
The fact that it's so easy to hide what's in a vape cart has already led to one major health crisis within the vaping community: Vaping-Associated Pulmonary Injury (VAPI; also known as EVALI). VAPI causes severe and potentially permanent lung damage. In the United States, there have been at least 2,758 confirmed cases and 64 deaths related to VAPI. Although the cause of VAPI isn't known for certain, the more likely reason appears to be vitamin E acetate added to fake vape carts as a diluting agent. Vitamin E acetate looks almost exactly the same as cannabis distillate, so unscrupulous sellers added it to their fake carts to make them appear more potent than they really were.
The potential presence of unsafe additives in fake vape carts isn't the only concern for you. The other major concern is that a fake cart might contain no active ingredients at all. That's a particularly large concern with CBD vape cartridges. CBD isn't an intoxicating cannabinoid, so you can't really feel it working. Therefore, you can't identify whether a CBD vape cart is real or fake based on how you feel. Some unscrupulous sellers have taken advantage of that.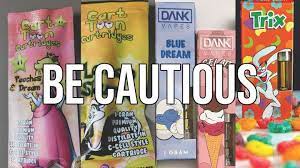 Why Are There So Many Fake Carts?
At this point, the reason why fake carts exist is probably obvious to you – it's because cannabinoid oils are very expensive. Although a legitimate vape cart brand can make enviable profits, the enterprise can be even more profitable if the cartridges are heavily diluted or not filled with cannabinoid oil at all. Makers of fake vape carts are hard to catch, and that leads some people to gamble that they'll be able to dupe some unsuspecting consumers and get away with it.
How Common Are Fake Carts?
Fake vape carts are much more common than you might realize. In 2019, law enforcement officers in Los Angeles randomly tested samples of more than 10,000 counterfeit vaping products seized in raids of unlicensed dispensaries. Among the samples, more than 75 percent contained undisclosed additives – including vitamin E acetate – meant to dilute the dilute the cannabis oil. Almost all of the samples tested contained less THC than what was claimed on their labels, with some products having less than a quarter of the advertised potency.
If more than 10,000 fake carts can be seized in a few months of raids in one city, just imagine how many more counterfeits have reached the streets without being caught. In a 2019 exposé, Rolling Stone claimed that "counterfeit weed vape cartridges are everywhere."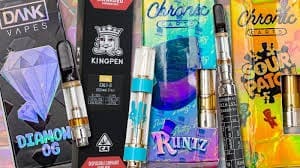 How to Identify Fake Carts
Now that you have a better understanding of how big the problem of fake carts really is, we'll discuss some of the visual cues that can help you identify a counterfeit product. It's possible for a vape cartridge to pass all of these tests and still be fake – but if a cart has any of these items of concern, it's probably best to buy something else or to stop using the cart if you've already purchased it.
Fake brand name: Many fake carts are sold in bulk packaging that anyone can buy from wholesalers. The brand names on the packages don't exist. If you search for one of those "brands" online, you'll find no real information at all.
Poor-quality packaging: Although some people market fake carts under brand names that don't exist, others try to copy the trademarks of real brands. In this case, the fake carts will often be distinguished by poor-quality packaging. The print quality will be blurry, and the cardstock will be flimsy.
Looks or tastes different: If you use a particular brand of vape cart regularly – and you buy one that doesn't look or taste right – you should stop using the cartridge. Cannabis oil is a natural product, and there can be variations between batches. If a particular cartridge is so different from the norm that it's unrecognizable, it could be fake.
Makes you feel strange: This probably goes without saying – but if you don't feel right when using a vape cart, you should stop using it.
Seems thinner than other carts: Cannabis oil is very thick. If you invert a vape cartridge, the air bubble in the cartridge should travel slowly from one side to the other. If the bubble moves quickly, it's a potential sign that the oil in the cartridge is diluted. This isn't foolproof, though, because vitamin E acetate has about the same thickness as cannabis oil – that's why it began to appear in fake carts.
Red instead of gold color: Cannabis distillate usually has a golden color. The oil in a fake cart, on the other hand, will sometimes be slightly reddish or even clear because the oil has been diluted. Once again, though, this isn't foolproof because vitamin E acetate has about the same color as cannabis oil.
Priced much lower than other carts: Cannabis distillate is expensive. Selling vape carts while remaining in full compliance with the law is costly as well. Makers of fake vape carts, however, don't care about legal compliance and will fill their cartridges with almost anything. For those reasons, fake vape carts are often very cheap. If you find a vape cart at a price that seems too good to be true, you probably shouldn't buy it.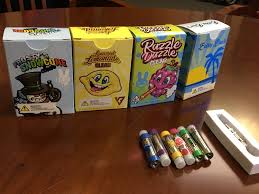 How to Avoid Fake Carts
The problem with knowing the most common characteristics of fake carts is that the makers of fake carts know those characteristics as well. They're always coming up with new tricks to evade detection, and that means today's fake carts look more realistic than ever. It's helpful to know the characteristics of fake carts, but it's even better to buy intelligently. If you pay attention to these tips, you'll have the best possible chance to avoid buying fake vape carts.
Buy from reliable sellers: When you buy vape carts, you should always get them from licensed dispensaries and vape shops. In many cases, you can also buy CBD and Delta-8 carts direct from the manufacturers. You're more likely to find fake carts at gas stations and convenience stores, at unlicensed "pop-up" dispensaries and from private sellers on social media.
Check authenticity codes when possible: All manufacturers are aware that fake vape carts are a problem, and many have begun adding authenticity codes to their packages. If the manufacturer's website says that a code is legitimate, it probably is. It's important, however, to navigate directly to the website instead of using the QR code on the package. Some makers of counterfeit vape carts sidestep the authentication process by using QR codes that will send you to fake websites. Naturally, a fake website will say that every cartridge is authentic.
Research a brand before buying it: You should never buy a vape cart unless you're certain it's made by a real brand. You should be able to search for the brand name online and find a real website with contact and compliance information.
Download and view lab reports: A legitimate maker of vape carts should always send products to a third-party laboratory to verify their potency and purity. The results of those tests should always be available for customers to download and read.
For Guaranteed Authenticity, Fill Your Own Vape Carts
When it comes to buying vape carts, it's a jungle out there. Fake carts are incredibly common, and they're dangerous and potentially even deadly. In this article, we've provided several tips that can help you avoid buying fake vape cartridges. No method is completely foolproof, though, because counterfeiters are always refining their methods. That's one reason why refillable vape cartridges like the ones sold here at Rokin Vapes are so popular. If you buy or make your own distillate and fill your own cartridges, you'll always know what you're vaping.