The 510-thread battery is the most popular battery type for vaping on the market. This means there are many terrific batteries out there, but it also means there are also unscrupulous manufacturers peddling substandard products. These can be a waste of your money.
Both genuine and substandard 510-thread batteries come in different shapes and sizes. Some are rectangular, and others square. Others are small such that you can easily carry them discreetly around, while others are large, thus require you to have a bag to put them in.
To avoid spending your money on the wrong battery, you should take your time to research and find the best battery. What are some vapes that come with top-quality 510 thread batteries? Well, below, we list a few good ones that are available. Some of the best ones being:
Dial oil cartridge battery vaporizer kit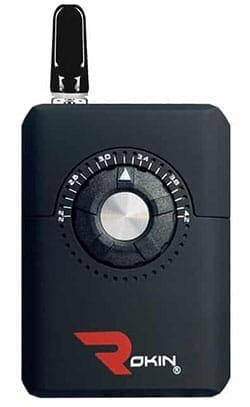 Featuring a 500 mAh lithium-ion battery, the Dial oil cartridge battery vaporizer kit is everything you need for a simple and better vaping experience.
The Dial has a unique look with a big dial in the middle. Hence, its name, the Dial.
You use the Dial to control the battery's voltage output when heating your oil. The Dial has 21 different settings that can be increased or decreased in 0.1 Volt increments ranging from 2.2 Volts to 4.2 Volts.
When you are new to the kit, it might be challenging to tell what voltages correspond with the various temperatures, but it's easy to get the hang of it with time. To be on the safe side, when you are starting, keep the Dial to the middle range around 3.4 Volts and find your ideal temperature from there.
The Dial weighs only 33 grams. This makes it easy to carry around. Since it's slightly under 2 inches in height, it fits in your palm so that you can use it discretely in public.
The top portion is removable, giving you a better view, but it's recommended you keep the top attached as the Dial looks better that way. You also keep the internal parts protected when you do this.
Although it lacks buttons and magnetic adapters, it's compatible with most 510 threaded cartridges using the bottom-fed airflow, so you can have peace of mind that it will be compatible with the cartridges you're most likely to purchase.
To use the Dial, ensure that it's fully charged, then attach your oil cartridge.
Once a connection has been made, a blue LED light will flash, and you should proceed with setting your preferred voltage setting.
To activate it, inhale, and multi-colored LEDs lights will come up indicating that the device is active.
The kit also comes with a lanyard for easy carrying and a micro USB charger for easy charging. To charge it, you only need to connect the Micro USB into the USB wall adapter or any other USB device and let it go.
Mini Tank Oil Vaporizer Kit –Oil Cartridge Battery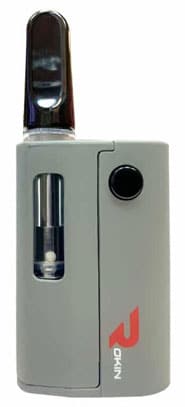 This Mini Tank features a miniature-sized 500 mAh battery is designed to work on any 510 threaded vape cartridge.
The mini tank battery isn't your typical pen-style vape—it's a tiny box-shaped vape with a 510 threaded battery, a type of vaping device that quickly gains popularity.
One of the unique features about it is that it separates into two pieces. When you thread the cartridge onto the 510 connection, one-piece covers the tank while the other piece carries the battery, and it connects to the section containing the 510 connection and the tank.
Although the mini tank can separate into two pieces, it measures only 2″ tall, making it extremely easy to carry.
The most conspicuous feature of this vape is the power wave technology that varies the voltage amplitude automatically between 3.6 V and 2.2 V. Since most cartridges don't need a full 3.6 V to keep the vaping product hot enough, the automatic drop in voltage allows the product not to overheat and also increases in taste.
The result is a smooth and enjoyable vaping experience.
The Rokin Mini Tank battery comes already pre-charged, and to use it, all you need to do is screw in your 510 threaded cartridges and press the power button five times for the battery to come on. You should always hold down the power button for the length of each inhale.
If vaping thick oils, use the 15-second preheat mode. Here you press the power button three times with the battery power on. The preheat mode sends 1.8 V from the battery, and it's perfect for heating thick oils, hard or hardened distillates, making them easier to vape.
When the battery runs out, it can be easily recharged by connecting the charging cable to any USB port. To tell whether the battery needs charging, look at the button on the battery. It will flash red when the battery is down and needs to be powered up.
Rage Oil Cartridge Battery Vaporizer Kit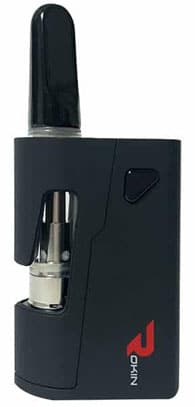 Like the Mini Tank Oil Vaporizer Kit, the Rage is 2″ high and 1″ wide, meaning that you can easily carry it around and enjoy vaping discreetly as it easily fits in your palm.
The kit features a removable front end that can fit any 510 cartridges, while the spring-loaded 510-thread connection ensures that you have an easy and secure connection.
To operate the battery, connect your cartridge, and you are good to go. Unlike the Mini Tank, the battery is a 280 mAh battery, which isn't as long-lasting. While this is the case, it doesn't mean that you won't have a great vaping experience. When you use it properly, one charge will get you through an entire cartridge.
To charge the battery, connect the USB to the USB wall adapter or any other USB device and let it go.
QuickDraw 510 Battery

The unique feature of this 280mAh battery vape is the auto-draw technology that eliminates the need to hold a button when inhaling.
With auto-draw technology, you just need to screw your cartilage to the battery and inhale to activate the battery.
When the battery drains, it's easy to recharge it. To do it, screw the USB charger to the battery and then connect it to a wall adapter, computer, or any other USB device.
Where can you buy 510 threaded batteries?
Due to their popularity, 510-threaded batteries are easy to find in most dispensaries or online. Remember, whether buying online or from a physical store, exercise caution and ensure that you buy a battery from a reputable brand.
Find the latest discounts at https://www.wethrift.com/Rokin